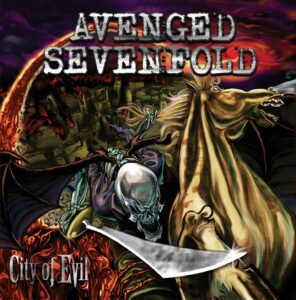 On episode 16 of The Coffin Nail, I ran through a list of iconic rock and metal albums that recently celebrated anniversaries. Against the likes of Metallica, Faith No More, and My Chemical Romance, I chose to focus on Avenged Sevenfold's transformative third album, 'City of Evil'. Released on June 6th 2005, 'City of Evil' saw Avenged Sevenfold (often referred to as A7X), transition from metalcore with a goth aesthetic, to the vanguard of mainstream rock music. In light of its 16th anniversary, let's take a closer look at 'City of Evil' by Avenged Sevenfold.
The early 00's was a very exciting time for mainstream metal. The popularity of bands like Killswitch Engage, In Flames, and Children of Bodom, proved that metal bands could produce radio-friendly choruses without compromising intensity. Faced with potentially longer careers than most of these bands thought possible when they started screaming in their garages a few years earlier, many vocalists decided to depart from the visceral screaming that made them popular, adopting instead a cleaner vocal style for both commercial and voice-preserving reasons. While many of their contemporaries chose rigid one-or-the-other approaches, A7X's vocalist M Shadows, spent several months working with vocal coach Ron Anderson (who had previously worked with Axl Rose and Chris Cornell), to develop a soaring tenor range without losing any of the 'grit'. The result is an unlikely convergence of Phil Anselmo's snarl and Bruce Dickinson's full-chested projection. Years later, Shadows would recommend Anderson to Trivium frontman, Matt Heafy, which Heafy has explicitly stated saved his musical career.
Lead guitarist, Synyster Gates' unique approach on 'City of Evil' also cannot be overstated. Merging the sensationalism of Guns N Roses and Iron Maiden-style solos, the neo-classical shred of Yngwie Malmsteen, along with the clean, harmonic focus of jazz guitarists like Frank Gambale, meant A7X were often a bridging point between teenage metalheads and their classic rock-worshipping parents. This is further evidenced by A7X's peers, Atreyu and Bullet For My Valentine, sharing the influence of hair metal bands like Bon Jovi and Guns N Roses, the former even going so far as to record a cover of 'You Give Love A Bad Name'. But while Atreyu and Bullet For My Valentine's fan bases continued to target a younger demographic, an adult at an A7X concert is as likely to be there alone as they are to be chaperoning their kids.
The album produced four singles, but the greatest commercial successes came with 'Bat Country' and 'Seize The Day'. 'Bat Country' reached No. 2 on the Billboard Hot Mainstream Rock charts and featured a 'Fear and Loathing in Las Vegas'-inspired music video. But time would prove 'Seize The Day' to be morbidly poignant. In a notable sonic departure for the band, 'Seize The Day' is a mournful power ballad featuring an uncharacteristic piano at front and centre of the instrumentation, performed by drummer, Jimmy Sullivan, AKA 'The Rev'. On December 28th 2008, The Rev died from an opioid overdose. At the time, the band were recording their 2009 album, 'Nightmare'. Dream Theater drummer, Mike Portnoy joined the band to complete the recording of the album. 'Seize The Day' has since become profoundly connected with The Rev's passing.
To be blunt, writing commercially successful metal songs is impressive, but not unique. However, the deception of 'City of Evil' lies in how much experimentalism and genre-fluidity is hidden behind the memorable refrains. For example, the non-linear riffs and chord progressions of 'Betrayed', 'Sidewinder's flamenco-styled outro, and 'The Wicked End's transition from conventional thrash metal into an isolated choral section, followed by a swelling orchestra, are not only adventurous, but exceptionally brave for a band whose fame was built on teenagers spending their parents' money in Hot Topic. Many songs feature minor to major key modulations, which metal bands usually avoid in favour of dominant minor melodies. When the album was released, I was used to hearing metal bands incorporate orchestras for dramatic effect. It took me years to realise that none of the undoubtedly expensive orchestral segments appear on any of the songs released as singles.
The most ambitious song on 'City of Evil' is unequivocally 'Strength of the World'. Starting with an acoustic guitar, then blossoming into an orchestral crescendo, underpinned with a twanging electric guitar, the song evokes a Western-frontier Americana romanticism that the band would explore further on their next album with 'Gunslinger' and 'Dear God'. The distinct key changes that recur throughout the album are more nuanced as the main vocal often leads the tonal shift. The first time I heard 'Strength of the World' was on a Metal Hammer DVD, which was also my first exposure to what is still my favourite album, 'Ghost Reveries', by Opeth. At the time, drawing any similarity between the two seemed absurd. But from a more musically mature perspective, all that is missing from the interlude halfway through 'Strength of the World' is a Hammond organ, and it would fit comfortably anywhere in the dark and mercurial introspection of Opeth's magnum opus.
'City of Evil' sparked a commercial success for Avenged Sevenfold that hasn't faltered since. As is often the case, A7X's popularity has been divisive amongst the surprisingly conservative metal elite. Nevertheless, the band shocked loyal fans and naysayers alike in 2016, with the sudden release of their progressive metal masterpiece 'The Stage'. Their departure from the increasingly simplistic stadium rock riffs of their previous two albums left many wondering how the band kept this side of themselves hidden for so long. I argue that the signs were there all along, perhaps no more conspicuously than on 'City of Evil'. For many years, I have been listening to metal fans, who haven't liked a new band since Sepultura, declare that, 'Avenged Sevenfold is metal for 14 year-olds.' I say 14 year-olds should be so lucky.
Listen to Episode 16 of The Coffin Nail: https://www.thecoffinnailradio.com/2021/06/12/the-coffin-nail-16-w-special-guests-crypta/
'City of Evil' on Spotify: https://open.spotify.com/album/55tK4Ab7XHTOKkw0xDz3AA?si=STOHiuATT22gFc2MJOiGrA&dl_branch=1