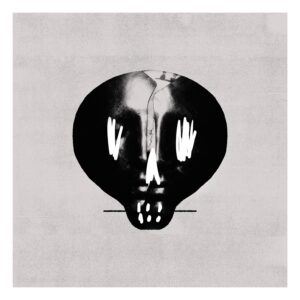 On November 5th 2021, Bullet For My Valentine released their eponymous 7th studio album on Spinefarm Records. After the steady decline of positive reception from critics and fans alike over their previous few releases, 'Bullet For My Valentine' (referred to as 'BFMV' in this review) sees the band not only fulfilling the promise of their iconic debut, The Poison, but reaching new peaks of intensity and excitement. The album featured as Album of the Week on episode 26 of The Coffin Nail and I'm only too happy to explain why.
The most instantly noticeable trait of 'BFMV' is that it is the heaviest record the band have released to date. The brutality of the riffs on songs like 'Shatter', 'Knives', 'Parasite', and 'Paralysed' would make Machine Head blush, yet they are framed within a modern songwriting structure not unlike the latest Architects or Sylosis records. In comparison with Bullet's last two records, the songwriting seems more considered and plays to the band's strengths, while remaining authentic and sounding distinctly like the Bullet-of-old. Produced and engineered by long-time collaborator, Carl Bown (Machine Head, Trivium, Bring Me The Horizon, Fightstar, etc), the album has a consistent and unique sonic identity that compliments an effective and cohesive tracklisting.
Bullet For My Valentine have often been labelled a 'scene' band. This is generally short-hand for saying that they appeal to a younger audience, but with a heavily implied mockery. While the hooks on 'BFMV' are sure to snare younger fans dipping their feet into the blood-soaked pool of heavy metal, there is undeniable quality to challenge any would-be naysayer. 'Bastards' is a shameless nod to classic metal in the style of Iron Maiden or Judas Priest, while there are also several subtle lyrical references to other classic metal tracks found in a number of other songs. How often does a 'scene' band use a phrase like 'trapped under ice'?
Lead guitarist Padge's solos have developed from lacklustre shredding to structured and vital elements of the song. Vocalist Matt Tuck is also on the best form he has been since their debut. In the relentless tour cycle that followed the band's explosion onto the metal scene, Tuck blew his voice out and was forced to record much of the vocals for their sophomore release, 'Scream Aim Fire' word by word, and sometimes syllable by syllable. The charm and tone of his vocals seemed lost forever, but on 'BFMV', Tuck has rediscovered the uniquely endearing expression that made their early songs so irresistible to fans throughout the metal community.
Of course, there are the compulsory power ballads that are integral to any Bullet For My Valentine album. But not since their anthemic second single, 'Tears Don't Fall' have the band written something as earnest and well executed as 'Can't Escape The Waves' or 'Rainbow Veins'. In particular, the slow swing of 'Rainbow Veins' appeals to fans of modern metalcore and groove metal alike. Both songs could easily have been restructured to a more radio-friendly format, but instead they are buoyed by heavy riffs and expansive atmospherics which favour the tone of the album, rather than the accessibility of the songs themselves.
A self-titled album is always a bold move. It is a declaration of intent and self-belief that a band makes when they are releasing something they hope will either define or redefine their place within their genre. In Bullet For My Valentine's case, this was less a gambit than a proud proclamation of their growth. The album opens with a distorted radio cycling through short clips of their best known songs from throughout their career, before seamlessly transitioning into the heaviest song of their discography, 'Parasite'. The album concludes 9 songs later with 'Death By A Thousand Cuts' which distills all the elements of, not only the rest of the album, but Bullet's entire back catalogue, into a perfectly crafted slab of melodic death metal worthy of Children of Bodom.
While 'BFMV' is undoubtedly a triumph for the band, it remains faithful to the band's classic sound and identity, which may be an obstacle for some listeners. It may not have the broad, stylistic diversity of the recent releases of Bullet's peers such as Trivium and Mastodon, but nothing attempted on 'BFMV' is performed with anything less than sincerity and precision. The experience of listening to 'BFMV' for the first time is a lot like watching an Avengers movie – if you are familiar with the preceding material, you will revel in the progression and conclusion of the band's artistic journey. But if you are new to Bullet, it is simply a fun, heavy record. For the first time in over a decade, Bullet For My Valentine have earned their place as one of mainstream metal's biggest names, and it's hard to imagine 'BFMV' not guaranteeing more festival headlining slots for the band next year.
Whether you are a fan who has stood by them since the start, or you're just curious about the unexpected hype around their latest album, find 47 minutes in your day for an album that filters several decades of metal through the distinctive style that launched these four young, unlikely, Welsh metalheads into the mainstream 15 years ago.
8/10