3 June 2021 by
lightbreaker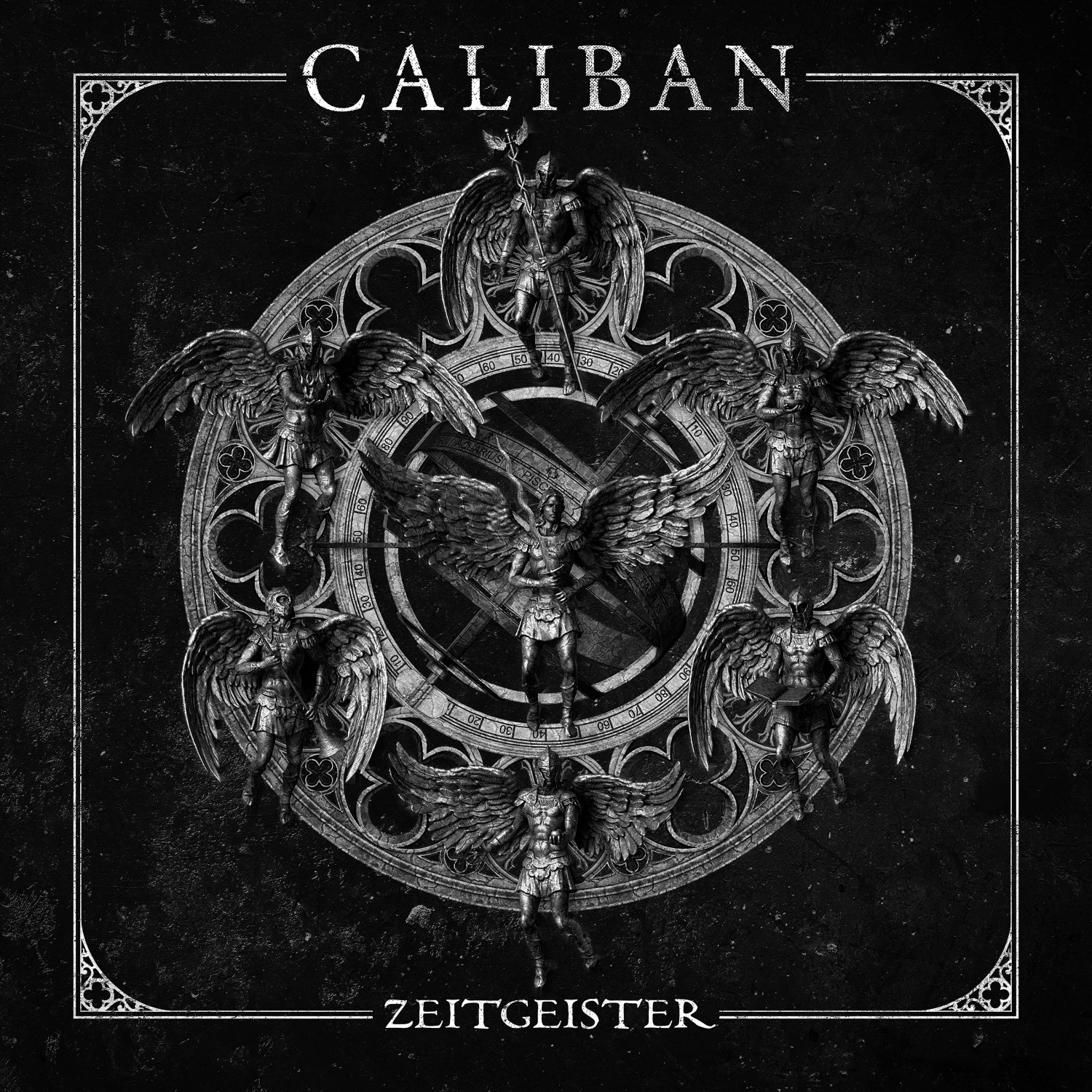 German metal veterans Caliban released their 11th studio album 'Zeitgeister' on May 14th 2021. Caliban were undoubtedly the flagship European metalcore band in the early 00's, largely on the strength of their now-classic albums 'The Opposite From Within' (2004) and 'The Undying Darkness' (2006). Fifteen years after the commercial peak of not only Caliban, but the genre they have become synonymous with, 'Zeitgeister' serves as a reflection on the growth of the band, and the sonic progression of metalcore as a whole. It sees the Essen-based metallers reimagining several songs from their back catalogue with modern production and arrangements. This fact was lost on me the first few times I heard the album, but when I realised what I was listening to, the title became all the more poignant and obvious. It is also the first studio album that vocalist Andreas Dörner has performed entirely in his native tongue.
The eponymous opening track serves as a perfect mission statement for the album. With its ascending minor key melody and choral vocals, it's a far cry from the rough and ready production of their early work. This transitions smoothly into the explosive 'Trauma'. Based on 'Arena of Concealment' from their debut album, 'Trauma' sounds more like Architects than the Morbid Angel meets Napalm Death sound of its origin. The almost rap-metal style guest verse from long-time Caliban collaborator Matthi (from Belgian beatdown band Nasty), is as effective as it is unexpected. It left me wondering if Mike Shinoda was right about an imminent nu-metal revival. And if a nu-metal revival is on the cards, Caliban sound primed to capitalise on it.
'Herz' drags the classic Caliban style kicking and screaming into a modern format with mixed results. But it's on the following track 'Ausbruch nach Innen', that the album kicks into a high gear. Fundamentally, metalcore is about melding contrastingly heavy and melodic moments within each song with more severity than most other genres of extreme music. 'Ausbruch nach Innen' executes this perfectly, retaining all the redeeming features of its source material ('Tyranny of Small Misery'), while still sounding not only modern, but notably creative.
The mid-point of 'Zeitgeister' is where the album's consistency falls down. 'Feuer, zieh' mit mir' is a solid song, but in the wake of 'Ausbruch nach Innen', the stylistic similarities make it feel like a lesser version of the previous track. It seems almost forgetable as soon as the next track starts. 'Nichts ist für Immer' delivers a steady groove made for head-banging, and an instantly memorable refrain made for a crowd to scream along to. Metal bands often need reminding that less is sometimes more, and that philosophy clearly elevates this song. I can't help but wonder how much better the album would flow if the order of 'Feuer, zieh' mit mir' and 'Nichts ist für Immer' were reversed.
At the time of writing, 'IntoleranZ' is the most streamed track from the album on Spotify. And it's easy to see why – the simple and relatable hook is sure to have a wider appeal than any other track. Fans of early 00's Caliban may be left unfulfilled by its lack of depth. That said, on first listen, this was my favourite track. Almost unrecognisable from its original form on Caliban's 1999 debut album 'A Small Boy And A Grey Heaven', 'IntoleranZ' presents a more mature band playing to their strengths and making the most of Dönner's increasingly guttural vocals.
Penultimate track 'Mein Inferno' is the only song that doesn't stand up in isolation. Here, the interchange of brutality and melody that defines the sound of the album is poorly executed. The transitions feel forced, and the dynamics come across as indecisive rather than diverse. It's a shame because the bridge section is one of the best moments on the entire album. Fortunately, 'Zeitgeister' ends on a high note with the only entirely new song, 'nICHts'. All the nuance that 'Mein Inferno' lacked is realised fluidly as melody, groove, and aggression are integrated in a less heavy handed way than anything preceding it. The pounding final riff and chilling scream of 'Ich bin nichts und alles nichtig' (translated roughly as "I am nothing and everything is void") leaves the listener both emotionally spent and gagging for more.
When assessing this album, it's worth reflecting on the challenge the band set themselves. Dissecting and reconstructing songs that made them famous is a huge gamble, more likely to alienate old fans than to gain new ones. Though not as dramatic as Linkin Park's 'Reanimation', 'Zeitgeister' is made with a sincerity and confidence that bands like Caliban would never usually dare to attempt. The more sonically expansive, electronic layers reflect how metalcore has changed in the last twenty years. But coming in at just thirty-two minutes, 'Zeitgeister' feels more like a traditional hardcore album than the introspection of Architects or latter-days Bring Me The Horizon. Caliban present 'Zeitgeister' as if they are catching up with a modern sound, but the subtext of the album suggests they were integral in developing that sound. There's a reason they aren't updating any songs from the last 10 years. Caliban's sound has felt current for the past decade, and now they are making sure their classic songs do too. Fortunately, their newest song is their best and I can't wait to hear more. But until then, I'll settle for screaming 'IntoleranZ' with a few hundred sweaty metalheads in SO36.
7/10